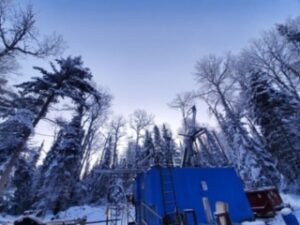 Missinaibi Drilling Services LTD is %100 aboriginally independently owned and operated Drilling contracting company with branches in Porcupine, Ontario and Hearst Ontario. Our Highly experience and industry certified team will go above and beyond to ensure your project gets executed safely, on time and within budget. While minimizing our environmental footprint.
We offer Surface diamond drilling, remote loctaions, fly jobs, directional drilling. Geotechnical and environmental drilling.
Mission Statement:
To provide advance drilling services to the mineral industry in Canada. Focusing on being
leaders in safety and environmental protection and minimizing its environmental footprint.
Vision Statement:
Drilling today for the world of tomorrow,
Safety Statement:
Be safe today, tomorrow and always. At Missinaibi drilling we know our team works hard for us so they can support their Family. So we focused on achieving a zero harm workplace so our team can go home to what matters most each and every night.

Missinaibi Drilling as a extensive health and safety program. We utilize Norcat Training Facilities. We have a dedicated H&S representative. We utilize a tracking web based program that supplies us with real time information on our employees certification and training needs, and gives us access to all critical documentation needed in the field.
Environmental Statement
Missinaibi Drilling take every precaution possible to reduce its environmental foot print. From using died biodegradable hydRaulic oil to reclamming our drill setup as much as possible.
About us
Our Management has over 30 years of combine experiences drilling in Multiple different countries. We have a 1 on 1 approach with our clients and field staff. We are humble and honest with or clients and staff. We still remember what its like to be behind the controls, so you'll often see the owners helping out in the field staff on regular basis.
Being 100% aboriginal we understand the importance of aboriginal relationship, we have experienced aboriginal relationship advisors. Were committed to provide and establishing relationship with local communities. Wether it be training, employment or simply being environmentally responsible.
We are quickly being recognized for our excellent work ethic and our safety approach. With the resources and partnership we have in place with can overcome challenges quickly and efficiently.
Have no fear when Missinaibi Drilling is here and Let's get your project in gear!